Courtesy of KTM Racing
After a landmark qualification run on Saturday and a best ever slot of 5th on the grid, Pol Espargaro scored his second top ten finish of the 2019 MotoGP season by crossing the line in 8th position at the Circuit of The Americas. The third round of the FIM World Championship season also saw all four KTM RC16s classify among the group of 18 race finishers.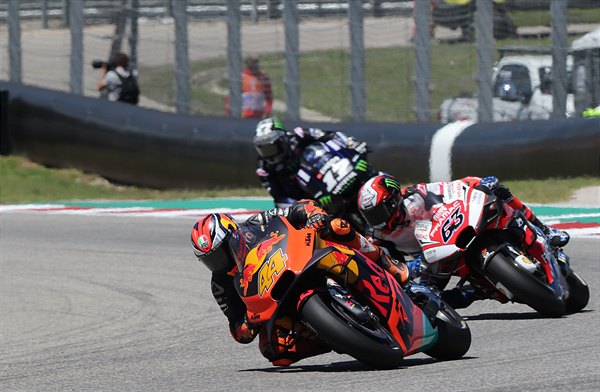 After the storms and high winds of qualification on Saturday the Circuit of The Americas offered crystal clear blue skies and decent 20-degree temperatures for the 20 lap Red Bull Grand Prix of the Americas affair and for what was the third round of nineteen on the 2019 calendar.
Pol Espargaro continued his positive trajectory this season so far by setting off from the second row of the grid and battling for a position in the top ten. The Spaniard was able to keep consistent across a bumpy and physically demanding surface and improved his race time from 2018 by sixteen seconds to capture 8th place. #44 was the first of the Red Bull KTM riders home and has now registered results of 12th, 10th and 8th in Qatar, Argentina and the USA.
Teammate Johann Zarco used the long and challenging COTA layout to gather more feeling and information on the KTM RC16 and ahead of possible upgrades to his technical package for the fourth Grand Prix of 2019 in three weeks time. The Frenchman was 13th for his highest ranking yet. Chasing the rear slick of the #5 machine was Red Bull KTM Tech3's Miguel Oliveira who recovered from a bad start to again post points in what was just his third outing. Hafizh Syahrin struggled to 18th after a misjudgement with tyre selection.
Espargaro is 9th in the championship table and his efforts have helped KTM to rise to 5th in the Constructors standings.
Pol Espargaro: "My crew and all the team worked really hard this weekend in a very tough place for us. We took an unexpected result here in Texas and we were sixteen seconds faster than we were last year. This is a realistic position: around the top ten. We'll go now to Jerez and a place we have been fast in the past maybe with some small improvements on the bike. I'm excited about what the guys are trying in the factory. I'm super-proud when I look at the results from last year or two years ago and what we are able to do now and what we are achieving. It also feels like the people in the paddock are also seeing our work. I have everything I need to keep pushing."
Johann Zarco: "I managed my energy much better. It doesn't mean that I could go faster. I could manage the gap with the guys behind me and tried to push also at the end to save the 13th position. Some guys in front had problems and crashes but this is part of racing so I just tried to finish and to take what I could. I will try to be as natural as possible in Jerez and take as much information as I can. If small things give me that good way to improve feeling then I will be able to use my quality and I'll be the first one happy."
Miguel Oliveira: "For sure it was a difficult race. I was not expecting to start this bad but then we picked up the pace. We need to be happy about this result because in the end we finished where we wanted, which is inside the points. It is definitely a very difficult track to ride and to be in the points here is very good. Now we go to Jerez. The bike looks like it's performing well there so we can't wait. We'll take many positives from this race because we learned and understood the bike more. My position needs to be a bit different, so we are working in this direction to make me feel more comfortable."
Hafizh Syahrin: "I'm honestly a bit disappointed because we tried a different choice of tyre and it seems it was not the right selection. Right from the beginning of the race I felt a huge drop; I couldn't stop the bike well enough so I was just fighting with it. It was difficult to keep the pace and this took all my energy. I hope we can come back in Jerez, the first race on European ground."
Mike Leitner, Red Bull KTM Team Manager: "From Pol's side the weekend was great for us. Austin is a demanding track for all bikes and riders so he performed very well in qualifying and took his rhythm in the race and finished a clear 8th. We can only be happy about that. With Johann we were struggling more and he still doesn't feel confident on the bike so we will work hard on that. We had three bikes in the points with Miguel scoring also. For us the top ten is always an achievement, so now we'll look forward to getting to Europe and making another step in positions. I think it is great for the company to see that all the pushing and hard work in the winter can translate to results and this is very good. We'll continue and by the end of the year we'll see where we are with our package and riders."
Moto2 & Moto3
Moto3 wowed the fans in Austin with a five-rider charge to the final corner of the last lap. Sterilgarda Max Racing Team's Aron Canet had pulled out valuable tenths of a second into the decisive turn to clinch his first victory (and second rostrum finish) of the season. The Spaniard – celebrating his first win since 2017 and on the KTM RC250GP – headed an all-KTM top three with Jaume Masia fractions of a second ahead of Andrea Migno. Canet and Masia now share the championship lead in the standings. Red Bull KTM's Jorge Martin took his second point-score of the season with 15th position in Moto2 while Brad Binder was forced out of the race early-on due to a technical issue.
Aron Canet: "I was thinking about my strategy and stayed relaxed for a long time when I reached second position. With two laps to go I pushed really hard, and to take this victory for the first time in two years feels fantastic."
The Gran Premio Red Bull de España at the Circuito de Jerez in southern Spain will bring the MotoGP series to Europe for the first time in three weeks on the first weekend of May.
Next race: May 5, Circuito de Jerez, Gran Premio Red Bull de España (ESP)
Results Race MotoGP Circuit of The Americas 2019
1. Alex Rins (ESP), Suzuki 41:45.499
2. Valentino Rossi (ITA), Yamaha +0.462
3. Jack Miller (AUS), Ducati +8.454
4. Andrea Dovizioso (ITA), Ducati +9.420
5. Franco Morbidelli (ITA), Yamaha +18.021
8. Pol Espargaro (ESP), Red Bull KTM +29.743
13. Johann Zarco (FRA), Red Bull KTM +42.458
14. Miguel Oliveira (POR), Red Bull KTM Tech3 +44.272
18. Hafizh Syahrin (MYS), Red Bull KTM Tech3 +1:07.683
Results Race Moto2 Circuit of The Americas 2019
1. Thomas Luthi (SUI) Kalex 39:11.508
2. Marcel Schrotter (GER) Kalex +2.532
3. Jorge Navarro (ESP) Speed Up +3.836
15. Jorge Martin (ESP) Red Bull KTM Ajo +27.482
DNF. Brad Binder (RSA) Red Bull KTM Ajo
Results Race Moto3 Circuit of The Americas 2019
1. Aron Canet (ESP), KTM 36:06.761
2. Jaume Masia (ESP), KTM +0.909
3. Darryn Binder (RSA), KTM +1.077
DNF. Can Öncü (TUR) Red Bull KTM Ajo