Courtesy of Tom Jacobs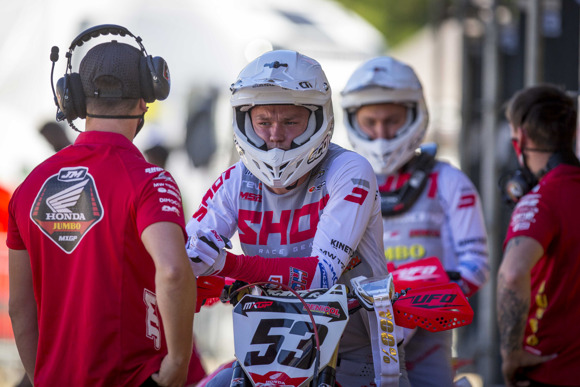 In his second MXGP ever British MX2 champion Dylan Walsh continued to make headway. The talented JM Honda Racing rider scored a 15th and 18th place for a shared 15th overall finish. Artem Guryev finished 31st for the day.
The first motocross world championship race since 2012 at the old school "Crossodromo Monte Coralli" introduced a new generation of riders to the famous tight and hard pack track.

Making the most of his time between Kegums and Faenza Dylan did his preparation on similar terrain although the heat and the combination of ruts and slippery spots provided additional challenges Walsh and Guryev qualified respectively 22nd and 33rd in the morning.

While the track layout favoured good starts Dylan made a strong impression in the first moto when he bounced back from a bad getaway. Walsh pulled through from 24th early on to claim 16th halfway through. With three laps to go the #53 JM Honda gained one additional spot to cross the line 15th.

True to form Dylan produced a terrific eighth place start in the final moto. Maintaining a top-12 position for the first third of the race the fast Kiwi started to slide back to come home 18th in the end.
Team mate Artem Guryev missed lots of valuable training due to recent knee and back injuries but at least the driven Russian was able to get a solid foundation for the next races. The highlight of his GP was his promising start to the second race. Artem was able to maintain top-20 speed early on. Eventually he placed 29th after a P28 earlier in the day.
The next MXGP round will also take place in Faenza on Wednesday.
Dylan Walsh: "I messed up my start in the first moto. From about 24th I came back to 15th. I rode solid but I used a lot of energy as well. In the second moto I had a really good start again and was riding well until twenty minutes into the race. I could only bring it home without pushing after that. Fifteenth and eighteenth for P16 overall is an improvement but we want to better. We'll prepare Wednesday as good as possible and I'm looking forward to make more progress."
Artem Guryev: "After all the drama of the last GP's it was good to finally get some solid riding time under my belt . The last two months I went backwards as far as my physical condition goes. and that's something I definitely noticed here. Each time I had to slow down after about 15 minutes. At least I made some improvement so I hope to build on that for Wednesday."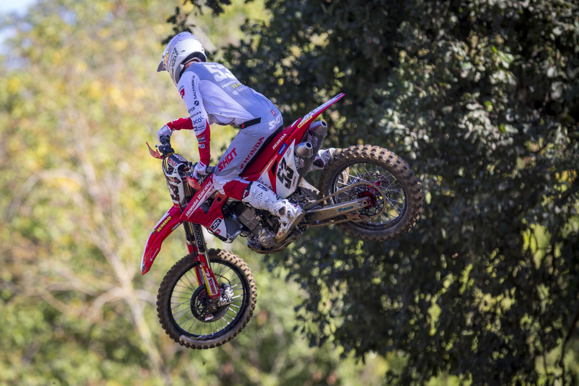 MXGP Race 1
1. Jeffrey Herlings (NED, KTM), 35:19.086; 2. Jeremy Seewer (SUI, Yamaha), +0:04.449; 3. Antonio Cairoli (ITA, KTM), +0:05.809; 4. Jorge Prado (ESP, KTM), +0:18.901; 5. Gautier Paulin (FRA, Yamaha), +0:20.460; 6. Romain Febvre (FRA, Kawasaki), +0:27.508; 7. Glenn Coldenhoff (NED, GASGAS), +0:29.307; 8. Tim Gajser (SLO, Honda), +0:34.581; 9. Mitchell Evans (AUS, Honda), +0:39.860; 10. Arminas Jasikonis (LTU, Husqvarna), +0:40.323; 11. Clement Desalle (BEL, Kawasaki), +0:55.851; 12. Jordi Tixier (FRA, KTM), +1:00.828; 13. Michele Cervellin (ITA, Yamaha), +1:07.303; 14. Calvin Vlaanderen (NED, Yamaha), +1:11.471; 15. Dylan Walsh (GBR, JM Honda Racing), +1:14.633; 16. Arnaud Tonus (SUI, Yamaha), +1:15.753; 17. Nicholas Lapucci (ITA, KTM), +1:16.595; 18. Pascal Rauchenecker (AUT, KTM), +1:17.232; 19. Ivo Monticelli (ITA, GASGAS), +1:21.372; 20. Alessandro Lupino (ITA, Yamaha), +1:26.492; 21. Henry Jacobi (GER, Yamaha), +1:26.874; 22. Valentin Guillod (SUI, Honda), +1:42.723; 23. Thomas Covington (USA, Yamaha), +1:43.775; 24. Zachary Pichon (FRA, Honda), +1:49.326; 25. Tom Koch (GER, KTM), +1:55.433; 26. Tanel Leok (EST, Husqvarna), -1 lap(s); 27. Edoardo Bersanelli (ITA, Yamaha), -1 lap(s); 28. Artem Guryev (RUS, JM Honda Racing), -1 lap(s); 29. Petar Petrov (BUL, KTM), -7 lap(s); 30. Davide De Bortoli (ITA, Honda), -7 lap(s); 31. Anton Gole (SWE, Honda), -9 lap(s); 32. Jose Butron (ESP, KTM), -11 lap(s); 33. Jeremy Van Horebeek (BEL, Honda), -11 lap(s); 34. Samuele Bernardini (ITA, Yamaha), -13 lap(s);
MXGP Race 2
1. Jeffrey Herlings (NED, KTM), 35:18.731; 2. Jeremy Seewer (SUI, Yamaha), +0:01.973; 3. Antonio Cairoli (ITA, KTM), +0:07.461; 4. Romain Febvre (FRA, Kawasaki), +0:09.053; 5. Tim Gajser (SLO, Honda), +0:09.691; 6. Jorge Prado (ESP, KTM), +0:23.291; 7. Mitchell Evans (AUS, Honda), +0:45.795; 8. Glenn Coldenhoff (NED, GASGAS), +0:48.674; 9. Arminas Jasikonis (LTU, Husqvarna), +0:51.293; 10. Alessandro Lupino (ITA, Yamaha), +0:56.253; 11. Gautier Paulin (FRA, Yamaha), +1:01.904; 12. Jeremy Van Horebeek (BEL, Honda), +1:04.954; 13. Jordi Tixier (FRA, KTM), +1:10.616; 14. Henry Jacobi (GER, Yamaha), +1:16.115; 15. Michele Cervellin (ITA, Yamaha), +1:16.624; 16. Clement Desalle (BEL, Kawasaki), +1:22.626; 17. Ivo Monticelli (ITA, GASGAS), +1:27.375; 18. Dylan Walsh (GBR, JM Honda Racing), +1:35.006; 19. Pascal Rauchenecker (AUT, KTM), +1:41.694; 20. Calvin Vlaanderen (NED, Yamaha), +1:53.115; 21. Petar Petrov (BUL, KTM), +1:59.708; 22. Tanel Leok (EST, Husqvarna), +2:01.966; 23. Jose Butron (ESP, KTM), -1 lap(s); 24. Tom Koch (GER, KTM), -1 lap(s); 25. Thomas Covington (USA, Yamaha), -1 lap(s); 26. Samuele Bernardini (ITA, Yamaha), -1 lap(s); 27. Edoardo Bersanelli (ITA, Yamaha), -1 lap(s); 28. Brian Bogers (NED, KTM), -1 lap(s); 29. Artem Guryev (RUS, JM Honda Racing), -1 lap(s); 30. Nicholas Lapucci (ITA, KTM), -5 lap(s); 31. Zachary Pichon (FRA, Honda), -5 lap(s); 32. Davide De Bortoli (ITA, Honda), -6 lap(s); 33. Anton Gole (SWE, Honda), -8 lap(s); 34. Valentin Guillod (SUI, Honda), -12 lap(s); 35. Arnaud Tonus (SUI, Yamaha), -15 lap(s);
MXGP Faenza classification
1. Jeffrey Herlings (NED, KTM), 50 points; 2. Jeremy Seewer (SUI, YAM), 44 p.; 3. Antonio Cairoli (ITA, KTM), 40 p.; 4. Romain Febvre (FRA, KAW), 33 p.; 5. Jorge Prado (ESP, KTM), 33 p.; 6. Tim Gajser (SLO, HON), 29 p.; 7. Glenn Coldenhoff (NED, GAS), 27 p.; 8. Mitchell Evans (AUS, HON), 26 p.; 9. Gautier Paulin (FRA, YAM), 26 p.; 10. Arminas Jasikonis (LTU, HUS), 23 p.; 11. Jordi Tixier (FRA, KTM), 17 p.; 12. Clement Desalle (BEL, KAW), 15 p.; 13. Michele Cervellin (ITA, YAM), 14 p.; 14. Alessandro Lupino (ITA, YAM), 12 p.; 15. Jeremy Van Horebeek (BEL, HON), 9 p.; 16. Dylan Walsh (GBR, JM HONDA RACING), 9 p.; 17. Calvin Vlaanderen (NED, YAM), 8 p.; 18. Henry Jacobi (GER, YAM), 7 p.; 19. Ivo Monticelli (ITA, GAS), 6 p.; 20. Pascal Rauchenecker (AUT, KTM), 5 p.; 21. Arnaud Tonus (SUI, YAM), 5 p.; 22. Nicholas Lapucci (ITA, KTM), 4 p.; 23. Petar Petrov (BUL, KTM), 0 p.; 24. Tanel Leok (EST, HUS), 0 p.; 25. Jose Butron (ESP, KTM), 0 p.; 26. Tom Koch (GER, KTM), 0 p.; 27. Thomas Covington (USA, YAM), 0 p.; 28. Samuele Bernardini (ITA, YAM), 0 p.; 29. Edoardo Bersanelli (ITA, YAM), 0 p.; 30. Brian Bogers (NED, KTM), 0 p.; 31. Artem Guryev (RUS, JM HONDA RACING), 0 p.; 32. Zachary Pichon (FRA, HON), 0 p.; 33. Davide De Bortoli (ITA, HON), 0 p.; 34. Anton Gole (SWE, HON), 0 p.; 35. Valentin Guillod (SUI, HON), 0 p.;
MXGP standings after 6 rounds
1. Jeffrey Herlings (NED, KTM), 263 points; 2. Antonio Cairoli (ITA, KTM), 203 p.; 3. Tim Gajser (SLO, HON), 196 p.; 4. Arminas Jasikonis (LTU, HUS), 186 p.; 5. Jeremy Seewer (SUI, YAM), 178 p.; 6. Glenn Coldenhoff (NED, GAS), 173 p.; 7. Gautier Paulin (FRA, YAM), 155 p.; 8. Jorge Prado (ESP, KTM), 153 p.; 9. Clement Desalle (BEL, KAW), 146 p.; 10. Romain Febvre (FRA, KAW), 137 p.; 11. Jeremy Van Horebeek (BEL, HON), 104 p.; 12. Mitchell Evans (AUS, HON), 92 p.; 13. Michele Cervellin (ITA, YAM), 73 p.; 14. Arnaud Tonus (SUI, YAM), 69 p.; 15. Jordi Tixier (FRA, KTM), 66 p.; 16. Ivo Monticelli (ITA, GAS), 56 p.; 17. Calvin Vlaanderen (NED, YAM), 55 p.; 18. Brian Bogers (NED, KTM), 51 p.; 19. Henry Jacobi (GER, YAM), 48 p.; 20. Benoit Paturel (FRA, JM HONDA RACING), 45 p.; 21. Shaun Simpson (GBR, KTM), 31 p.; 22. Pauls Jonass (LAT, HUS), 26 p.; 23. Alessandro Lupino (ITA, YAM), 24 p.; 24. Evgeny Bobryshev (RUS, HUS), 17 p.; 25. Karlis Sabulis (LAT, KTM), 16 p.; 26. Petar Petrov (BUL, KTM), 13 p.; 27. Harri Kullas (EST, HON), 11 p.; 28. Adam Sterry (GBR, KTM), 10 p.; 29. Lars van Berkel (NED, HUS), 9 p.; 30. Dylan Walsh (GBR, JM HONDA RACING), 9 p.; 31. Valentin Guillod (SUI, HON), 9 p.; 32. Tanel Leok (EST, HUS), 6 p.; 33. Brent Van doninck (BEL, HUS), 5 p.; 34. Pascal Rauchenecker (AUT, KTM), 5 p.; 35. Nicholas Lapucci (ITA, KTM), 4 p.; 36. Thomas Covington (USA, YAM), 3 p.; 37. Samuele Bernardini (ITA, YAM), 2 p.; 38. Anton Gole (SWE, HON), 2 p.; 39. Tom Koch (GER, KTM), 1 p.;