Courtesy of Sharon Cox
Emma Bristow has achieved monumental success claiming 209 FIM Trials World Women Championship for the 6th time setting unbeaten record not only through-out this year's 4 Round Championship Series, but also unbeaten since Final Round in 2017.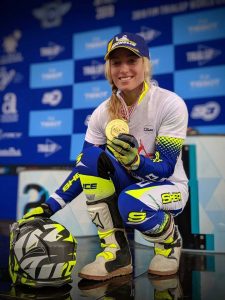 For Emma, having trained, focused and prepared to perfection, crowning of 6th Title not only surpasses all goals set as soon as winning 2018 World Women's Trophy was celebrated, Bristow exceeds her own expectations on raising the level of performance at every Trials event.
Emma: '2019 has been another amazing year for me in the Women's World Trial Championship. It's not always been easy and we have had a couple of challenges along the way but to win my 6th World Championship with another unbeaten season feels very special'.
With the 4 Round Series starting in Japan on June 7th, Emma placed focus competing in Scotts Six Day Trial in May followed by selected British Championship Rounds within home country locations. Rounds 2 and 3 followed in Portugal and France, with the World's #1 proving why the stats remain.
Emma: 'The year started for us in Japan with two days of competition. I love riding in Japan the fans are like nowhere else in the world, so passionate and appreciative of your presence but at the same time very polite when asking for selfies or autographs! I made a good start by winning both days of competition to give me an early lead in the championship so the long flight home was enjoyable'.
'Back in Europe and Round 3 in Portugal was very hot. The trial was split between a deep river and the huge rocks closer to the paddock. I made a good start but early on the first lap I crashed and lost my bike into a very deep hole in the rock full of water. The whole bike was submerged and completely full of water'.
'To add to the pressure of getting it going again, time was now very tight in Trial GP to complete the circuit so we had to work quickly to get it fired up again'.
'Fortunately I have had to become a good mechanic over the years. I'd drowned a bike at the Scott Trial the previous year so I knew what to do, but it's the first time the thought of "we might not finish the event today" has ever crossed my mind. In a championship where all rounds count this could have been disastrous. I'm pleased to say, although we then had to rush the trial to finish in time I managed to take another victory'.
Which proves, competing in FIM Trials World Championship is no given that all goes to plan- the terrain, the unforseen obstacles, the weather, traction, not to mention a rider's level of fitness, mental focus and skill over course of number of days sorts Champions from the rest.
Preparation is key. As Emma comments: 'Preparing for Trials is difficult. You never know what the event will have in store for you. We ride in all conditions, our course is never the same and the sections can change with every rider'.
'So you need to prepare for everything. I like to know I am riding at my best before I set off to travel to an event so I have training areas at home which I use to gauge where my level is technically and also to ensure I am happy with my settings on the bike. I won't finish working until I am happy which sometimes makes for long nights'.
'Of course having a good level of fitness is important but I don't spend much time in the gym as I prefer to be on my bike so I will ride once or twice a day and generally go for a run in the morning which I enjoy'.
All of which is not for the faint hearted. Hours and hours on the bike, practicing, gaining leverage on where weak spots are, accelerating positive skills which Emma takes pride in perfecting with 7 year partnership with Sherco Factory Team.
Emma: 'All 6 of my World Championships have been won with the Sherco Factory Team. I find the bike very easy to ride and it has always suited me. The best part of our partnership has to be the people. I have a brilliant team around me who want me to win as much as I do. The team manager and mechanics are fantastic so I always have confidence in my bike and it really is a team effort'.
Not shy of maintaining motivation to train, race and out-perform competitors, Emma's strength of character is true asset to victories standing on top of podium.
Emma: 'I think my motivation comes from my perfectionist attitude. I will always analyse my performance and see room for improvement. I am rarely happy with my ride even when I win because I want to be perfect everywhere and I think it is important to seek perfection in order to become a champion'.
'I am also driven by competition. An addiction to winning and a fear of losing means I work as hard as I did for my first World Championship as I did for my 6th World Championship'.
'I also really enjoy riding in competition with men at the British Trials Championship where the level is usually higher. Or at traditional events like the Scottish Six Day Trial or The Scott Trial. This helps me improve technically and by achieving some good results over the last couple of seasons I hope to show that women can be competitive in an "open" motorsport category as well!
With Final FIM Trials World Women Championship Rounds going to Emma, celebration at FIM Awards last weekend in Monaco was sweet icing on medal- to be enjoyed before next year's season's preparations begins for the 6x Champ!
Emma: 'I went on to win Rounds 4 & 5 in France and Spain to clinch my 6th World Championship in a row which is always an amazing feeling of relief knowing that all the training, hard work and sacrifice has paid off again'.
This film is snap-shot of Emma's amazing year with selected photos, comments and film footage of training leading up to Final Round in Spain. Special thanks to Emma.