Courtesy of Sharon Cox
Dakar Rally 2020 Women Competitors Media coverage brought to you by:
Dakar Rally 2020 has started. Stage One from Jeddah to Al Wajh gave competitors first taste of Saudia Arabia's challenging terrain with mix of sand, stone, hills and plains covering 752 kms with 319kms classed as Special Stage- timed.
All Women competitors across Bike, Car and SSV categories completed Stage One with truely satisfying results given there are another 11 Stages to race.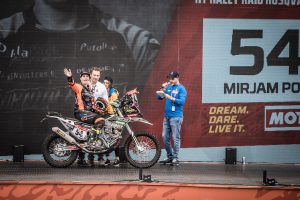 Bike category: Laia Sanz showed her true dominance placing 20th Overall amongst male and female, heading #1 spot for Women. Racing with Legend sticker representing 10 Dakar Rallies, Laia remains focused on brief review of day turning to prep for Stage 2 tomorrow.
Laia: 'Tomorrow 393 km ⚠️ It will be very important to take care of the bike because it will be the super marathon and at the end we can only spend 10 minutes repairing the bike without penalty'.
Only female Dutch competitor Mirjam Pol proved why experience of racing 8 Dakar's pushes physical, technical and mental preparation 'for the ready' showing race adaptability to place 68th Overall. One has to admire Mirjam's zest to plan, articulate and form analysis on the fly from her comments below:
Mirjam: 'Mostly made up of tracks, this day's challenge is technically accessible. But you start to get a feel for what makes Saudi navigation particularly difficult. It is time to learn to trust new landmarks, when multiple tracks lead to confusion. For bikes and quads, this is also the first part of the "Super Marathon" stage'.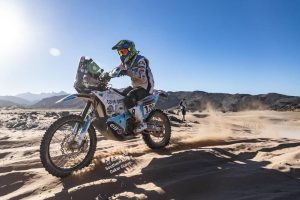 T
Rookie Taye Perry achieved great start finishing mere 2 minutes behind Pol. No mean feat for debut Dakar Stage One rider racing KTM 450cc for solid 4 hours- 50 minutes- 36 seconds along Saudi's Red Sea coast-line before turning inland.
Taye: Day 1 done and dusted… TP:".. my day was okay….started pretty slow, loads of tight highly rocky and dusty tracks. I had a slight mechanical issue but everything was in place and in tune..felt amazing! My nav was good…today was definitely a navigation day and not a racing day for me…Tomorrow is a short day compared to the rest, but tight and very complicated navigation and the super marathon stage, so only 10 minutes at the end of stage for any repairs without incurring a penalty!
Equally commanding of attention was South Africa's Kirsten Landman– rookie and fellow country-woman of Taye. Landman made comfortable progress navigating the tricky changes of terrain to finish Stage One in 86th place. With 5 hours 6 minutes and 53 seconds on the bike, Kirsten takes pride in sticking to her agenda with Stage One completed.
Kirsten: 'Stage 1 was a good one. Long day in the saddle but I kept it safe and smooth with no mistakes. It was super fast and dust is really bad and the routes are very sandy with hidden rocks -scary to go push…
Focus is to keep it steady, maybe I'm being too cautious (rather safe than sorry) but I'm aiming for the finish not positions 👍'.
Wrapping up Bike category for Women was Spanish rider Sara Garcia completing Stage One in 101st place out of 133 riders. The Yamaha pilot is no stranger to Dakar having met challenges head-on in Dakar Rally 2019, this time Garcia is all the wiser competing in 'Unassisted' class with priorities in place.
Sara: 'First stage of @dakarrally surpassed💪 After 750 km full of obstacles with lots of sand, stone, mountain and plain that has come great to adapt to what lies ahead. Until the thing balances a little we will eat dust but catching the rhythm & at ease with the motor without mishaps🔥
Car category gave Cristina Gutierrez driver along with Pablo Moreno co-driver plenty to be pleased about finishing in 38th place at end of Stage One. While the stony terrain cut a number of car tyres flat, Cristina and co-pilot met all expectations and some.
Cristina: 'Stage 1 of the Dakar Rally concluded! I am super happy with the result. A beautiful stage but with many rocks, it is very important to carry the best tires in the world: BFGoodrich Tires. 🙌 Exceptional navigation work by my co-driver Pablo Huete. More tomorrow! 🐢💨'.
Truely out of comfort zone having completed Dakar Rally 2019 in home country of Peru, Fernanda Kanno driver and Alonso Carillo co-driver spent all 8 hours-19 minutes- 13 seconds navigating Stage One to 74th place. Not that the duo are fazed by the sheer enormity of race-time- for at 1.00am sleeping on top of assistance vehicle- the night sky proved exceptionally beautiful for the pair.
Fernanda: 'Here it is 1 in the morning and you have to sleep… we as a team with little budget (compared to the others 🤪) we sleep on the roof of the assistance cart… it's a thousand stars hotel 🤩 And how it's a cold of m…… I have all my @seatosummitperu kit 🥰🥰🥰'.
To wrap Day One of the 42nd Dakar Rally has to be the superb performance by only female duo in SSV class: Camelia Liparoti driver and Annett Fischer co-driver. For late call-up to secure Annett as co-pilot, the Italian 'Legend' Liparoti and German Fischer put paid to racing with vengence finishing 33rd at end of Stage One.
With plenty ahead, Stage Two starts tomorrow from Al Wajh to Neom racing over 393kms with 367kms Special Stage.
Header Photo: Laia Sanz Stage One Dakar Rally 2020 Photo Credit: Laia.