Courtesy of KTM Racing
Red Bull KTM Factory Racing's Toby Price will go into the 10th and final stage of the 2019 Dakar Rally as the provisional overall leader. Matthias Walkner lies third, just over six minutes behind his teammate.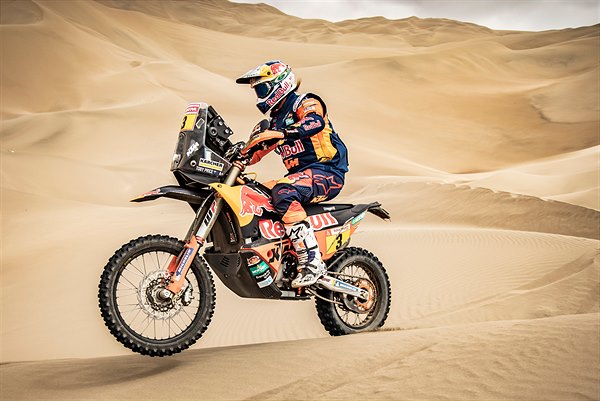 Stage nine of the rally saw another motocross style mass-start with riders setting off in waves of 10, determined by their finishing positions from the previous day's stage. Heading into the dunes for the 313-kilometre timed special, the first group of riders stuck together for the majority of the stage. Although it was in fact two riders from the second group who took the honours today, the top riders in the overall crossed the line just seconds apart.
With no real advantage gained on today's stage, Toby Price successfully defended his lead in the rally's overall standings. Just over one-minute separates Price and nearest competitor Pablo Quintanilla and the two rivals now head into tomorrow's short final stage where they are expected to battle for the overall win of the rally.
Toby Price:"I got through stage nine today where we had the mass-start. There was no chance to make up any time or lose time really, I just had to stick with the group. Tomorrow is only a 100-kilometre stage, but I think it's going to feel more like 300. The boys are really going to up their pace and all I can do is try my best once more and try to stay with them. If I can get through tomorrow and finish on the podium, I'll be more than happy."
Placed fourth on today's stage, Matthias Walkner lies third overall in the general standings, six minutes and 35 seconds behind Price. Despite the deficit, Walkner's advantage over the fourth-placed rider is considerable and the defending Dakar champion has no choice but to push on tomorrow's stage to make up as much time as possible.
Matthias Walkner:"The stage felt really long today, partly because the pace was up and down all of the time. Riding in a group sometimes someone will push and everyone gets faster and then things will slow down again. Riding in the dust was tough and it made navigation tricky – we got lost a few times trying to find waypoints. I didn't lose any time to the others though and I have a good gap to the next rider in the standings. Tomorrow there is no time for strategy, so I will give it my best and see where I finish."
Setting off in the first wave of 10 riders this morning, Luciano Benavides had his first taste of mixing it with the rally leaders on a mass-start stage. Despite losing time to the group when fog once again affected visibility on the route, Benavides was able to push on and navigate himself back to the other riders. Currently lying seventh overall, the Argentinian will be aiming for another strong ride on tomorrow's final stage to secure his place inside the top-10.
Luciano Benavides:"Today was good fun but really chaotic. We all started together and it was my first time in the lead group. I did manage to get lost at one point when I followed some old tracks but I was able to find my way again and catch back up to the pack ahead. At the finish I don't think I lost too much time. My goal coming into the race was to get a top-10 result and hopefully if everything goes well tomorrow, I should be able to better that so I'm really happy."
Sam Sunderland rode a solid stage nine, finishing in 12th place, just ahead of Sanz. The 2017 Dakar Champion lies eighth in the provisional overall standings and will once again give his all on tomorrow's stage 10 of the rally.
Sam Sunderland:"Today's stage went ok, I found it a little tricky to focus and couldn't quite get into my rhythm. I lost a little time on the group but all-in-all had a good day. There's one last stage to race and of course I plan to give it my best."
Laia Sanz enjoyed another consistent ride on today's stage. Setting off in the second wave, Laia successfully stayed with the group until a small issue caused her to lose touch. Quickly rectifying the problem, the Spaniard set off again to ultimately complete the stage in 13th place. She now sits 11th in the provisional overall standings.
Laia Sanz:"I am really surprised with my result so far, I haven't been pushing too hard on any of the stages, just keeping to a good rhythm. I had a small issue today that cost me about five minutes, which was a shame because I lost touch with the group I had been riding with. Physically I felt better today too, so I am pleased about that. We only have one more day to go and I know it will feel very, very long. You start to listen to every noise on the bike and hope that nothing goes wrong. The plan is to make it to the finish and I will be really happy."
Stage 10, the final of the 2019 Dakar Rally will see competitors return to the host city of Lima, Peru. Covering a total of 359 kilometres, riders will face a short and intense 112-kilometre timed special.
Provisional Results Stage Nine – 2019 Dakar Rally
1. Michael Metge (FRA), Sherco, 3:46:38
2. Daniel Nosiglia (BOL), Honda, 3:48:38 +2:00
3. Pablo Quintanilla (CHL), Husqvarna, 3:50:06 +3:28
4. Matthias Walkner (AUT), KTM, 3:50:07 +3:29
5. Toby Price (AUS), KTM, 3:50:07 +3:29
Other KTM
9. Luciano Benavides (ARG), KTM, 3:51:33 +4:55
12. Sam Sunderland (GBR), KTM, 3:53:44 +7:06
13. Laia Sanz (ESP), KTM, 3:59:00 +12:22
Provisional Standings after Stage Nine – 2019 Dakar Rally
1. Toby Price (AUS), KTM, 32:43:15
2. Pablo Quintanilla (CHL), Husqvarna, 32:44:17 +1:02
3. Matthias Walkner (AUT), KTM, 32:49:50 +6:35
4. Andrew Short (USA), Husqvarna, 33:23:16 +40:01
5. Xavier de Soultrait (FRA), Yamaha, 33:30:59 +47:44
Other KTM
7. Luciano Benavides (ARG), KTM, 33:49:05 +1:05:50
8. Sam Sunderland (GBR), KTM, 33:53:30 +1:10:15
11. Laia Sanz (ESP), KTM, 35:51:53 +3:08:38