Courtesy of KTM Racing
Red Bull KTM Factory Racing's Sam Sunderland has taken the win on stage two of the 2019 Silk Way Rally. Completing a positive day for the team, Luciano Benavides posted the seventh fastest time with Laia Sanz rounding out the top 10.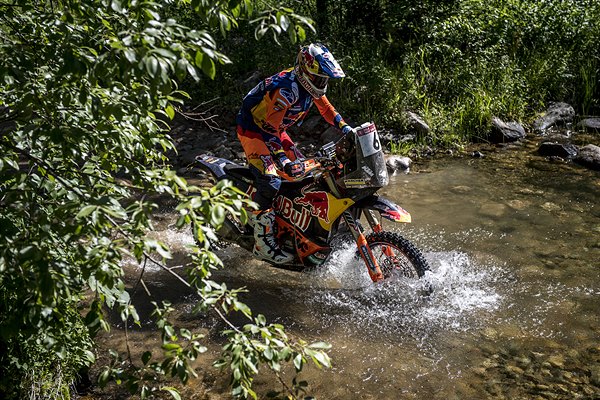 Totalling 413.63 kilometres, stage two of the Silk Way Rally's covered similar mixed terrain to Sunday's opening stage. Held in the Russian countryside to the south-east of Lake Baikal, the 212.02-kilometre timed special was extremely fast, and at times hazardous for the riders with the stony tracks often hiding additional obstacles and challenges. Accurate reading of the road book was paramount in order to both claim a good time and stay safe along the route.
Following his fifth-place result on the opening stage, Sam Sunderland had a number of riders ahead of him to chase down. Starting off well, the current FIM Cross-Country Rallies championship leader moved into the stage lead just after the halfway point, going on to win the stage by 39 seconds. Sam now lies second in the provisional overall standings, just eight seconds down on the leader.
Sam Sunderland:"I'm happy to get stage two finished safely. The day started on similar terrain to yesterday on the forest tracks with lots of trees, vegetation and water splashes. It was extremely important to take note of every single kilometre on your road book and the dangers listed there. It was really important to concentrate on your notes and take in which danger was which. It was hard to get a reference today as there was no refuel, so I wasn't sure how my pace was all day. It's always great to win a stage but it wasn't our strategy for today so we'll move on an see how the remaining eight days go for us."
Runner-up on the rally's first stage, Luciano Benavides was second away this morning. With the 200-kilometre special posing a series of challenges, the young Argentinian chose to back off slightly to ensure a safe result. Luciano crossed the line in seventh place, close to three minutes down on Sunderland, and now lies fourth in the overall standings.
Luciano Benavides:"Overall, it was a good day for me. I was able to keep to a solid pace and really enjoyed the first half of the stage. Towards the end I lost my focus a little, the tracks were really fast with some tricky sections and I lost a little time there. After such a challenging stage I'm happy to reach the finish and now look forward to what tomorrow brings."
Laia Sanz continues to reacquaint herself with her KTM 450 RALLY. Maintaining a solid pace on the formidable stage, she still posted an extremely impressive time to claim 10th place for the day. Currently 11th in the overall standings, Laia will continue to focus on her goal of claiming a strong rally finish as the event continues with stage three tomorrow.
Laia Sanz:"It was a very tough day today – very fast and these kinds of stages don't suit me so well. I imagined the result would not be as good as it was as I decided to take things steady and just make it to the finish safely. I'm happy with the result as I didn't lose too much time at all to the guys in front."
Tuesday's stage three of the Silk Way Rally – Ulan-Ude to Ulan-Bator – will see competitors leave Russia and enter Mongolia. The long 691.35-kilometre stage includes a 243-kilometre timed special that climbs to 1,500 metres above sea level at its highest point.
Provisional Results Stage Two – 2019 Silk Way Rally
1. Sam Sunderland (GBR), KTM, 2:20:30
2. Oriol Mena (ESP), Hero, 2:21:09 +39 seconds
3. Paulo Goncalves (PRT), Hero, 2:21:20 +50 seconds
4. Kevin Benavides (ARG), Honda, 2:21:37 +1:07
5. Joan Barreda (ESP), Honda, 2:23:10 +2:40
Other KTM
7. Luciano Benavides (ARG), KTM, 2:23:26 +2:56
10. Laia Sanz (ESP), KTM, 2:33:27 +12:57
Provisional Standings (after Stage Two) – 2019 Silk Way Rally
1. Kevin Benavides (ARG), Honda, 2:52:28
2. Sam Sunderland (GBR), KTM, 2:52:36 +8 seconds
3. Paulo Goncalves (PRT), Hero, 2:53:47 +1:19
4. Luciano Benavides (ARG), KTM, 2:54:53 +2:25
5. Joan Barreda (ESP), Honda, 2:55:07 +2:39
Other KTM
11. Laia Sanz (ESP), KTM, 3:13:07 +20:39