Courtesy of KTM Racing
KTM held a special news press conference on the first day of their home Grand Prix reviewing and analysing the effort behind their season and a half in all classes of MotoGP.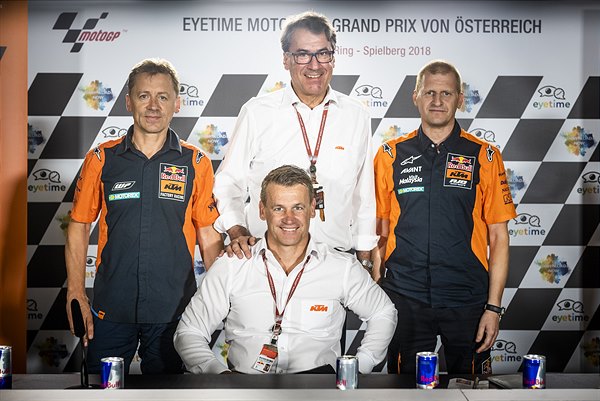 MotoGP
KTM Industries AG CEO, Stefan Pierer, was joined by KTM Motorsports Director Pit Beirer, Mike Leitner (Team Manager MotoGP), Aki Ajo (Ajo Motorsports) and Herve Poncharal (Tech3) for a one-off press conference at the Red Bull Ring in Austria for Red Bull KTM's Home Grand Prix this weekend and the eleventh round of nineteen in the 2019 campaign.
The duo talked about the strong efforts of both the Red Bull KTM crew as well as the hard-working test team to bring the KTM RC16 to regular top ten contention and a much reduced margin to race winners and other manufacturers compared to the factory's debut season in 2017. Although both squads are feeling the sharp end of the sport with injuries to both Mika Kallio and Pol Espargaro, KTM have been able to spread their influence in the paddock as their ambitions for MotoGP keep apace. This weekend Bradley Smith will reap the full support of the KTM grandstand and fans and will hope to continue his positive speed and progress shown in both Germany and Czech Republic.
Both talked extensively on the 'doubling' of their presence for 2019 with the acquisition of the Tech3 operation and the inclusion of Johann Zarco and Miguel Oliveira  to join Espargaro and Hafizh Syahrin on the four RC16s. Kallio's role has been essential for the RC16 test kilometres and the Finn will be joined by another tester for 2019 with decorated Grand Prix winner Dani Pedrosa's name in the frame.
Pierer: "This is a very important event for us and the big grandstand alone allows us to entertain employees, friends, clients, customers; racing is the DNA of the brand. It has been an enormous amount of development to catch-up (in MotoGP in less than two years) and we want to be touching the podium and to reach the top. It does not matter how long it will take, we will do it."
Beirer: "It is fantastic to come here again to Red Bull Ring and although we only count on one rider in MotoGP we are exceling in the other categories. We came here in 2012 as newcomers and Sebastian Risse and I had one square metre of working space in the back of Aki's truck and that's how it all started. Step-by-step we are here now, and it all begins with two series – the ADAC Junior Cup and the Red Bull MotoGP Rookies Cup – where we already have 50 riders in this paddock on KTMs and then spread through the rest of the classes we have 22 more riders. We are missing two in MotoGP but we can count on 72 in total: that's an amazing development and why we really enjoy be part of this racing scene. We know there is still a lot to do and we will keep on pushing. We have a structure in place here that is almost unique and I am really happy and proud that we can make some good things in the future."
Moto2 & Moto3
There was praise for Aki Ajo's set-up in Moto2 with Brad Binder making his breakthrough in 2018 and promising star Jorge Martin signed to fill Oliveira's race boots as the class enters a major technical shift next season. The progress of Redox PruestelGP's Marco Bezzecchi at the top of the Moto3 standings shows the capabilities of the KTM RC250 GP and with further development and attention directed towards the exciting category for '19; where KTM were able to toast world championship success on their maiden attempt in 2012.
Bezzecchi name was aligned with fellow Moto3 racer Philipp Oettl as both will make the step into Moto2 and with Herve Poncharal's revised Red Bull KTM Moto2 unit.
Ajo: "All the steps that are important are in place and there is no other manufacturer that can start with a rider as young as 12-13 and they can dream of making it all the way to MotoGP. We all understand there is a lot of work to get there but it is so nice to have that structure from Rookies to MotoGP."
Poncharal: "I'm more than happy to join the orange family and what we will face next year as a challenge is unique and it never happened before; the fact that KTM will have four bikes on the grid with the same spec. I don't think it has been done in the past and like Mr. Pierer says I think it will speed-up the project. I would like to make him proud. It will take time but I'd like to take KTM where they want to be as soon as possible. We know that a European manufacturer can lead a championship if they are prepared to work hard, work well and with the right people around. KTM do not have unrealistic goals. Our new Moto2 line-up has only been possible thanks to Mr. Pierer, Mr. Beirer and Red Bull, of course, and we are very proud of that. We can look to the future with these guys and they are very promising."
Last but not least the Red Bull MotoGP Rookies Cup, now twelve years in existence and providing MotoGP with the cream of young international prospect in that time, again forms an exciting and unmissable part of the Grand Prix programme. It is the first 'rung on the ladder' for KTM-supported athletes along the tough route to MotoGP.
Red Bull Ring 2019 is Red Bull KTM's second Home Grand Prix and it is one that the factory attempts as current leaders of the Moto3 and Moto2 series. In MotoGP the RC16 will be showing the strides made by the firm around one of the fastest tracks on the calendar.
Red Bull KTM Factory Racing 2019
MotoGP Rider, Johann Zarco (FRA)
MotoGP Rider, Pol Espargaro (ESP)
Red Bull KTM Tech3 2019 
MotoGP Rider, Miguel Oliveira (POR)
MotoGP Rider, Hafizh Syahrin (MAL)
Moto2 Rider, Marco Bezzechi (ITA)
Moto2 Rider, Philipp Oettl (GER)
Red Bull KTM Ajo 2019
Moto2 Rider, Brad Binder (RSA)
Moto2 Rider, Jorge Martin (ESP)