Courtesy of MotoGP
The long winter wait endured by racing fans the world over is coming to an end after the Movistar Yamaha MotoGP team gathered in Madrid to officially launch their 2015 campaign in the quest for title victory.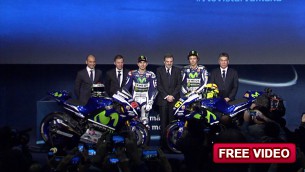 A winter of development by Yamaha engineers and exhaustive training by the riders sees a formidable team gathered and ready to prove themselves against the best in the world.
The 2015 season will be the second year of partnership between the Yamaha Factory Team and Spanish company Telefónica. The five-year collaboration started in 2014 looks set to grow from strength to strength, making Telefónica's headquarters in Madrid the perfect venue to unveil the 2015 livery.
The formidable duo of Italian Valentino Rossi and Spaniard Jorge Lorenzo remain unchanged as the rider line up for the team. Nine-time world champion Rossi delighted the racing world in 2014 with an impressive season, returning to form as a key protagonist. 'The Doctor' increased the pressure round after round to finish the season in a well deserved second position.
Four-time world champion Lorenzo had a tougher start to the season but went on to find his rhythm, keeping his teammate firmly in his sights in the podium battles that marked the climax to the year and earning him third in the final standings. 2015 sees them both heading to Sepang for the first test of the year in top form, both physically and mentally, and as very real title contenders.
Presenting the team were Rossi and Lorenzo, alongside the president of Telefónica España, Luis Miguel Gilpérez. They were joined by the General Manager of Yamaha Motor Co., Ltd's Motorsport Division, Kouichi Tsuji, the Managing Director of Yamaha Motor Racing Srl, Lin Jarvis, and Movistar Yamaha MotoGP's Team Director, Massimo Meregalli.
The team now travels to Malaysia where the preseason will officially kick off with the first test at Sepang on 4th, 5th and 6th February. This will be the first opportunity for the riders to shake-down the 2015 YZR-M1 before the beginning of the 2015 MotoGP™ World Championship in Qatar on 29th March.
Managing Director of Yamaha Motor Racing Lin Jarvis stated, "Last year we were honored to announce our new partnership with Movistar, a brand that has a rich and strong heritage in the MotoGP championship."
"We enjoyed a really important and very positive first year together in 2014 to begin our collaboration. This year we have decided to present the new bike at the home of Movistar, at the Districto Telefónica in Madrid. From here the new season begins, and a new adventure for all of us. The "M" for Movistar on the fairings of our M1 is even bigger this year representing even greater union between us. We are once again fortunate to have two great champions in the team and two of the best riders in the world: Valentino Rossi and Jorge Lorenzo. Both want to achieve their goal, to win races and to win the title and I am sure they will be committed to work together as Movistar Yamaha MotoGP team Factory riders to make their bikes faster and more competitive to challenge our competitors."
"From our side I can assure our riders that Yamaha Motor and everybody in the Movistar Yamaha MotoGP team is committed and focused to provide them all the support they will need to achieve their and our mutual goals. I am as excited to start the new season and together we are ready to challenge for victory 2015."