Courtesy of KRT – Kawasaki Racing Team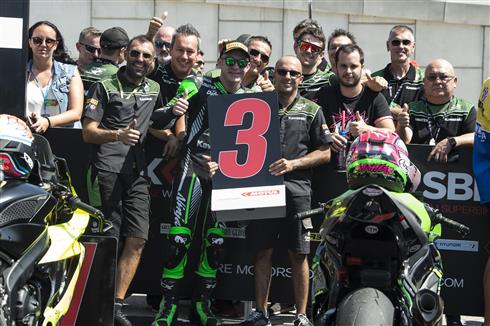 Kawasaki Puccetti Racing WorldSSP rider Lucas Mahias took a third place finish at the undulating Portimao circuit today, in a race which was red flagged and finally classified as finished after 13 laps of the planned 18. Hikari Okubo finished seventh, scoring valuable points in his overall championship campaign.
Many of Mahias and Okubo's rivals had taken part in testing at Portimao two weeks ago but by raceday itself Mahias and his machine were ready to take on the challenge of the 4.592km long circuit. He was in a fight for a podium all the way from the first to the last lap, waiting make a decisive move in the final lap.

Under a hot Portuguese sun Mahias was third for much of the race, then second from lap four to lap six, before holding onto the back of the leading duo for the rest of the race. Lucas was only 0.312 seconds behind the race winner, scoring his third podium position in succession.

Okubo was in the early leading group but could not maintain that position and he slowly dropped back to finish seventh, just behind the sixth placed rider across the line, in what was an unexpected final lap finish.

With nine rounds of the 12 now completed Lucas is still fourth overall with 98 championship points, Hikari is fifth with 82 points.

The WorldSSP championship riders will have their next race at Magny Cours in Mahias' native France, with raceday on Sunday September 29.

Lucas Mahias stated: "I do not know if we could have got more than third place because I was pushing at my maximum during the race. I do not know if we could finish higher because it was difficult to overtake. I tried to manage my tyres but it is impossible to manage the front tyre in these conditions. To come back to the leading two I had to push my front tyre in the slower corners so I am not sure how the final laps would have been. It was a strange race but I pushed from the first to the last lap. I did not test here two weeks ago and the start of the weekend was difficult. But I am happy for myself and my mechanics because after the first day it would have been easy to have a lot of excuses and finish lower in the results – but everybody pushed all weekend. Because we pushed to the limit we got a podium."

Hikari Okubo, stated: "The race was not so good because I could not follow the top group and finishing this race in seventh position is not what I want. I need to do more work but I do not have any ideas right now, so I need to think about everything a bit more. I am quite sad because although my championship position is fifth, I need to win. Maybe I need to change my riding style more."

Ayrton Badovini (Team Pedercini Racing Kawasaki) equalled his season best result of fifth today but his team-mate Kyle Smith was unlucky to start from pitlane after exceeding the maximum number of engines used from his allocation. He eventually tangled with a slower rider under braking as he came through the pack, and no scored after a crash. Badovini is now 11th in the championship and Smith 18th.

In the red flagged race Glenn van Straalen (EAB Racing Team Kawasaki) was just out of the points in 16th, Nacho Calero (Orelac Racing VerdNatura Kawasaki) was 17th and Rob Hartog (Team Hartog – Against Cancer Kawasaki) 18th. Gaetan Matern (Flembbo Leader Team Kawasaki) was the 21st and last finisher.