Courtesy of KTM Racing
Jorge Martin, one of the main stars of the current Moto3 FIM World Championship series, will join the Red Bull KTM Ajo team for two years and for his entry into the Moto2 class for 2019.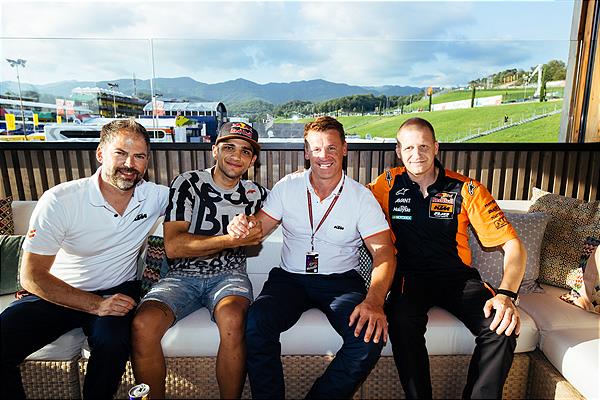 The 2014 Red Bull Rookies Champion has 'reconnected' with KTM to continue his progression in Grand Prix racing. KTM, Aki Ajo – and his vastly experienced and competitive crew – singled out Martin as one of the brightest replacements for Miguel Oliveira in the Moto2 project as the Portuguese moves to MotoGP in 2019.
Jorge Martin: "I think this is an important move for my career and I'm really happy to have found this agreement with KTM and Red Bull. It is such a competitive brand and I already cannot wait to start working this winter to attack next season. I want to learn as much as I can in the first year and fight to be at the top in the second. Obviously I have good memories of KTM from the Red Bull Rookies Cup. It is important to be together again and I hope we can get the same sort of results we managed last time!"
Aki Ajo (Team Manager Moto2): "We can see that many riders can be quick when they move from Moto3 to Moto2. We have a lot of experience with this and there are many examples; so I get very excited when we have a top guy from Moto3 coming again into our Moto2 structure. I feel that Jorge is one of the biggest talents coming up and especially in Moto3. I'm really enthusiastic to welcome him into the KTM family."
Pit Beirer (KTM Motorsports Director): "We are proud and happy to get this rider 'back'! He was growing up in the Red Bull MotoGP Rookies Cup and I think our philosophy is now clear to everybody. Having Jorge in Moto2 is another milestone for us because he really is one of the upcoming talents in this paddock; it underlines the effort we are making. Together with Aki we are trying to have this combination of experience and adding one of the youngsters in Moto2. I think it is important that we have opened a cool line to show how a rider can make steps with us through the categories. I'm really happy to have Jorge on our side; he is too strong to be one of our competitors out there!"