Courtesy of MotoGP
The Aspar MotoGP™ team has unveiled its most international line-up yet at Sepang, with two former World Champions and new Malaysian energy drink DRIVE M7 on board as title sponsor.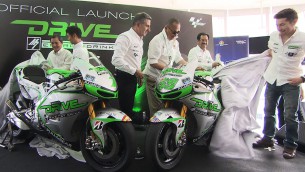 With the second test session of the MotoGP preseason due to kick off on Wednesday in Malaysia, the DRIVE M7 Aspar Team took the opportunity to officially unveil its 2014 project at the home of its new title sponsor in a special ceremony.
Pulling back the covers to reveal the new silver and fluorescent green colours that will adorn their Honda RCV-1000R machines in 2014 were the team's new riders, Nicky Hayden and Hiroshi Aoyama.
With an American and Japanese rider, both of them former World Champions, and a new title sponsor, the team aim to branch out further into the international market. The deal between the team and its new sponsor is for three years, signifying a long-term vision that both parties are sure will prove to be a great success.
The presentation was attended by the Malaysian Minister of Turism and Culture, Dato Seri Mohamed Nazri bin Tan Sri Abdul Aziz.
Jorge Martínez 'Aspar': "We are broadening our horizons, continuing our growth and establishing ourselves firmly on the international plane. It is very important for us to have reached an agreement with DRIVE M7, a huge company that forms part of the Mutiara Motors Group and that has a global vision. In terms of our sporting project we have switched manufacturers from Aprilia to Honda and we have signed two World Champions in the shape of Nicky Hayden and Hiroshi Aoyama to represent us in MotoGP. We are all very excited about this new project and we face a big challenge over the next three years."
Nicky Hayden: "It is a new season and a new challenge for me but I am healthy and very excited. I have been very impressed with Mr Aspar and his professionalism – it's clear he really wants results and is behind all his guys. I think it's great we have a new sponsor and one of such a high level as Drive M7. Not only is it good for us, I think it's good for all of MotoGP to see new sponsors coming from different parts of the world and this can be great for the future. The challenge of competing as an open bike and the new rules will be interesting to see how it all plays out and if it really will become the future of MotoGP."
Hiroshi Aoyama: "I am really happy to be joining the DRIVE M7 Aspar Team. It's a very professional team with a highly motivated group of staff who work hard every day to achieve the best possible results. Hopefully this new season can be an enjoyable one for every single person connected to this project. We have a new challenge this season in the shape of the Open category, which is the future of MotoGP. 2014 will be an interesting and important season for us. I have a great team, a great bike and direct support from Honda, so I am sure it will be a good year."