Courtesy of KTM Racing
For the fifth time in 2019 MotoGP Red Bull KTM's Pol Espargaro was quick and competitive with his KTM RC16 and directly entered the Q2 session at a sunny and hot Circuit de Barcelona-Catalunya for the seventh round of nineteen. The recently-turned 28 year old was 12th fastest at his home track. Johann Zarco will set-off from the sixth row of the grid.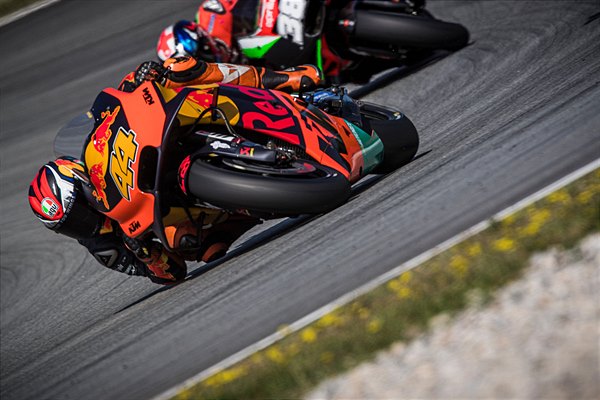 MotoGP discovered more sunshine and high speed for the second meeting in succession with the Gran Premio de Catalunya – being held for the 28th year at the Circuit de Barcelona-Catalunya a short distance from the Mediterranean city – following the visit to Italy two weeks earlier.
Red Bull KTM had to negotiate a slick and tricky course and search for grip at what was only their third visit to the popular venue. Pol Espargaro was rapid throughout Free Practice to secure a Q2 slot. Espargaro completed 7 laps in the short 12 minute session and managed his best on the last attempt but was just over half a second from the front row.
Johann Zarco showed promise with top ten speed on Friday but could not squeeze through the Q1 selection and will occupy 18th for the 24 lap race tomorrow.
In the Red Bull KTM Tech3 garage Miguel Oliveira was just three tenths of a second slower than Zarco and one tenth ahead of teammate Hafizh Syahrin. The Portuguese is also just one place in front of the Malaysian with both bikes in 20th and 21st respectively.
Pol Espargaro: "Good to be in Q2 again but honestly this is the toughest race for us and where we have always suffered a lot. On my fast lap I saw yellow flags in front of me from [Alex] Rins, I was on the back straight and coming-in so hot – three tenths faster to be P8 or P9 – I was almost crashing so I had to cancel my lap. I pushed for another one but could do nothing more than the lap I made. I think it will be important to finish the race tomorrow because it will be super-slow or with a lot of crashes. If the race is slow and we can risk a bit more than the others then maybe we can get something."
Johann Zarco: "I could not improve this morning or make the step I wanted to make but I did it this afternoon and it was better than nothing. This is gives me the 'glass half full rather than empty' feeling. I'm learning and trying to develop what I can learn. I got some improvements this afternoon and was able to see a few things on the track. I tried to keep this feeling for next time and I'm really motivated."
Miguel Oliveira: "We worked very hard to reduce the gap and we managed but the whole grid is very, very tight and we have only one second from 3rd to 20th position, which is where I am. All the four KTM's are within four tenths, so it will be interesting to see tomorrow if we can keep a good pace for the race. We still have to analyse which tyre to use for tomorrow. But for now, we just relax and look forward to tomorrow."
Hafizh Syahrin: "I felt really good in Qualifying today. We are very close to the rest and I hope we can find a good race pace tomorrow. Now we need to decide if we chose a soft or medium tyre for the race. At the moment, we are still at 50-50, so we will decide after the Warm Up tomorrow morning. The important thing is to enjoy it [the race] and not to do any mistakes or feel any pressure."
Moto2 & Moto3
The gap between Augusto Fernandez on Moto2 Pole Position and Red Bull KTM's Jorge Martin in 17th place was only one second; revealing the depth of competition in the Moto2 division. Brad Binder did not make it through the Q1 period and will take a place on the seventh row. Aron Canet and Albert Arenas used the power of their KTMs to take 5th and 6th positions in the Moto3 Q2. The Spaniards were two of three KTM RC250GPs in the top ten of Saturday's classification.
Races: June 16, 2019 – Moto3 11.00 | Moto2 12.20 | MotoGP 14.00 CET
Results Qualifying MotoGP Circuit de Barcelona-Catalunya 2019
1. Fabio Quartararo (FRA), Yamaha 1:39.484
2. Marc Marquez (ESP), Honda +0.015
3. Maverick Viñales (ESP), Yamaha +0.226
4. Franco Morbidelli (ITA), Yamaha + 0.227
5. Valentino Rossi (ITA), Yamaha +0.269
12. Pol Espargaro (ESP), Red Bull KTM +0.941
18. Johann Zarco (FRA), Red Bull KTM +0.700 (Q1)
21. Miguel Oliveira (POR), Red Bull KTM Tech3 +1.025 (Q1)
22. Hafizh Syahrin (MYS), Red Bull KTM Tech3 +1.112 (Q1)
Results Qualifying Moto2 Circuit de Barcelona-Catalunya 2019
1. Augusto Fernandez (ESP) Kalex 1:44.170
2. Thomas Luthi (SUI) Kalex +0.021
3. Sam Lowes (GBR) Kalex +0.029
17. Jorge Martin (ESP) Red Bull KTM Ajo +1.074
19. Brad Binder (RSA) Red Bull KTM Ajo +1.49.913
Results Qualifying Moto3 Circuit de Barcelona-Catalunya 2019
1. Gabriel Rodrigo (ARG) Honda 1:48.450
2. Ai Ogura (JPN) Honda +0.021
3. Tony Arbolino (ITA) Honda +0.314
20. Can Öncü (TUR) Red Bull KTM Ajo 1:49.660