Courtesy of KTM Racing
KTM displayed the full force of their MotoGP/Moto2/Moto3 riders, teams, technology and promise in fresh 2019 colours at a presentation in Mattighofen, Austria today. Four racers in the Moto2 class and one in Moto3 illustrated the wide spectrum of potential that the factory can enjoy for the imminent Grand Prix campaign.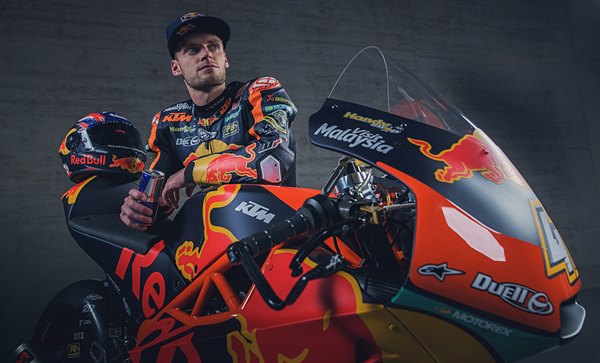 The combination of Grand Prix winning experience and blooming talent with raw racing potential was standout in the short but comprehensive event in the heart of 'orange country' this afternoon. For the first time the KTM Race department drew all of their MotoGP, Moto2 and Moto3 forces together not only to unveil the Red Bull liveries for the 2019 term but to graphically illustrate the strong path through to the pinnacle of Grand Prix that begins with the Red Bull Rookie Cup and progresses through the categories to the premier class.
Red Bull KTM Ajo Team Manager Aki Ajo will continue to guide the progress of South Africa's Brad Binder (24 in August); the former Moto3 World Champion earned his first spoils in Moto2 in 2018. He will also oversee the development of Moto2 rookie (and 2018 Moto3 #1) Spain's Jorge Martin (who turned 21 in January) as the Moto2 crew discover a new engine supplier in 2019. Ajo also has the fantastic flair of Turk Can Öncü (16 in July) to steer in Moto3 for a full GP education after his startling wild-card debut at Valencia in 2018.
KTM's union with the Red Bull KTM Tech3 squad in MotoGP means that the Moto2 effort also gains more support. Tech3 welcomes two Moto3 Grand Prix victors into their operation with German Philipp Öttl (23 in May) and Italian Marco Bezzecchi (21 in November) set to make their debuts in 2019.
Although youthful and still in the early trajectories of their careers KTM's Moto2 and Moto3 riders already have a litany of spoils: 2 world championships, 23 GP triumphs and 60 podiums.
Brad Binder: "I think that this year we have a good opportunity and that, if we work, we can have a great year. I will give my all to be very consistent and get on the podium in as many races as possible. Whenever I can, I will try to go for the victory. The main thing is to be consistent as the season is very long. We have to be smart and apply everything we have learned over the past two seasons in Moto2."
Jorge Martin: "Being part of this team is incredible. I am very proud to be part of this big family and I hope we can achieve great things together. It's my first season in Moto2, so my main goal this year is to learn as much as I can. I will work hard and do my best; so we'll go for it. Even though my first experience with the bike was short, the feeling was really good. I trained hard this winter and I can't wait to get started."
Can Öncü: "It's a dream come true to be here today. I have always dreamt of being a world championship rider, so I'm very happy to have achieved it. My aim for this season is to learn as much as possible. New circuits will be coming up for me where we will have to work hard to learn and adapt to them. Nevertheless, I am going to give my all to try to achieve good results. I want to make the most of this great opportunity."
Philipp Öttl: "I can't wait to start this new adventure together with Hervé and my team. The tests in November have already been very interesting. During this winter, I was training in Spain and Italy and I think I'm well prepared for this season. Regarding the colours of our bike, I like the blue very much: it is my favourite colour as well. I'm looking forward to the first tests this year and I'm highly motivated."
Marco Bezzecchi: "I'm very excited about being here for this presentation. I like the colours of the bike a lot and also being reunited with my team and to work with my new machine again. The 'chrome' bulls on the bike is my favourite part of the design. I can't wait to start this new adventure with Hervé. I enjoyed the days of testing in November with him a lot; he was always in the garage to watch what we do and how we work. At the same time, I'm very proud to be in a team like this."
Aki Ajo, Red Bull KTM Ajo Team Manager: "2019 is a very important year for the entire Red Bull KTM Ajo structure. Our goal is to keep improving day after day. We always talk about achieving higher and higher goals, but I like to think that if we improve every day then we are already fulfilling our work and reaching our goals. This year in the Moto3 class we have Can Öncü: he has great talent and I am sure that by learning steadily and taking advantage of all the experience of our structure he will have a great future. In Moto2, Brad Binder and Jorge Martin are both great talents. Last year we won six races, the goal for 2019 is to achieve similar results. As I always say, we want to get better race after race."
Herve Poncharal, Red Bull KTM Tech3 Team Manager: "The very first 'touch' with the KTM family came after the last Grand Prix of 2018. Then we had a week in the incredible factory infrastructure. I have been working with a lot of different motorcycle manufacturers but this is clearly the best, the biggest and the most advanced racing department I have ever seen in the motorcycle industry. When you see this then you know they are serious about racing. We have an exciting new chapter now in Moto2 and we're looking ahead. KTM have built a very strong and big support structure around us and we're really proud of that."
Pit Beirer, KTM Motorsport Director: "In Moto2 and Moto3 there are tight rules so you cannot go crazy on individual bike development. It makes the classes very attractive and with really close racing. There is definitely a strong battle to be on a top level in Moto3 but it is also a competition to progress young riders and we really like this class because it was our first base into road racing. Without a Moto3 project we would not have a MotoGP bike today and you have to work so closely and carefully to make gains there. It is our base, and it leads us directly onto why we are in Moto2 because it is the next step. The rules are completely different with the single engine supplier but it still makes a lot of sense for us to learn about the bigger bike and where the rider also learns. Our overall structure means we can keep and nurture a Rookies Cup rider and that was missing in years before. Presence in all these classes allow us to function in road racing exactly how we do in off-road by working with young riders very early and trying to grow with them through the divisions until you hopefully have a champion in the main class."
Stefan Pierer, CEO KTM Group: "I would like to thank Herve: it is a big honour that he has joined us and given us more riders and helped our structure. To see the full Moto2 and Moto3 line-up with Aki and Herve is emotional and exciting. Today we are not looking just at the top end of MotoGP but also at the beginners and those who come from the Rookies Cup and with the help of our long-term partners Red Bull. It is a comprehensive programme and it is delivering. In Moto3 we have a special place for a special talent and the winner of the Rookies Cup. The whole programme is really paying-in. KTM does not give up: patience and finally we want to win. I would also like to wish the very best of luck to all our 'front line' staff – the riders. Have a great season."
The Red Bull KTM Ajo team and Red Bull KTM Tech3 will now head to the Jerez circuit in southern Spain for the first of two official tests for Moto2 and Moto3 on February 20th.